Well, it is finally here.
Tomorrow night, the 2011 version of the University of Georgia Bulldogs will take on the Boise State Broncos.
The Bulldogs come into the season ranked #19 with many people predicting an SEC East title for the squad. Boise State comes into the game ranked #5 with hopes of going undefeated and sneaking into the National Championship game.
In the long run, this game is more important for Boise State, regardless of what most Georgia fans think as of right now.
That's not to say that this isn't an important game for the Dawgs though. After going 6-7 last year, this team must give everything in every game to make the improvements that the rest of the country seems to be expecting of us.
Aaron Murray quarterbacks the team again this season and should be one of the top players in the conference this season. From practice reports, it seems like he and the "new" receivers have built a strong rapport and he shouldn't miss a beat.
Behind him at tailback will be a mixture of mostly Richard Samuel and Isaiah Crowell. Samuel has missed a good bit of practice time the last few weeks, while Crowell has really impressed coaches and players. Many of them have said that he is "legit."
That's music to fan's ears.
I think Crowell will get more carries than Samuel and land in the 15-18 range. What he does with those carries is a little harder to predict as Boise State may have the best defensive line in the country. I think a 25-30 carry game between the two backs will lead to good success though.
Tavarres King and Marlon Brown are the top two receivers right now, with Brown having some of the strongest fall practices of anybody. Freshman Malcolm Mitchell will also play, and coaches say that he is big time playmaker potential.
Our offensive line is bigger than their defensive line, but they may be on the winning side when it comes to athleticism. This is undoubtedly the key matchup of the game.
On defense, I tend to look at our size and athleticism matched up against Boise State's offense and think that we should come out on the positive side more than not. Things don't always work out like that though.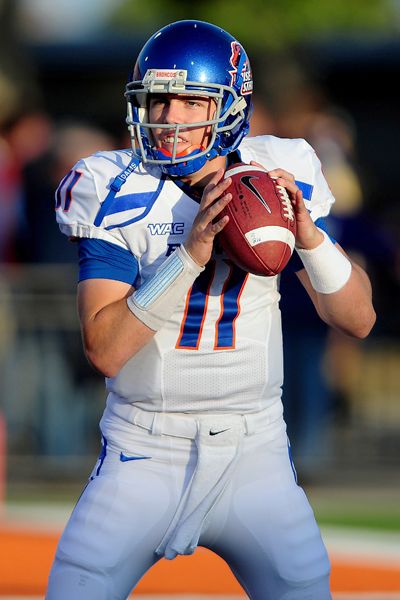 Kellen Moore will have the most wins in NCAA history by the tenth game of the season, he only needs eight, and has seemed unbreakable throughout his career. Pressure doesn't phase him and he is known around the country for his accuracy.
But he has never faced an SEC defense, and some experts think Georgia may have the most athletic group in the SEC. With DeAngelo Tyson, Kwame Geathers, John Jenkins, and Abry Jones (with Geathers and Jenkins splitting time), Georgia's defensive line will tower over Boise State's offensive line. It should be an advantage over the course of the game for the Bulldogs.
Then you have the linebackers of Jarvis Jones, Alec Ogletree, Christian Robinson, and Cornelius Washington. Throw in guys like Chase Vasser and Ray Drew, who Richt said will play, and the Broncos have never seen a more athletic set of 'backers.
The secondary enters the season as the biggest question mark, but there have been some good signs this off-season. Brandon Boykin is again starting at one corner spot, and Branden Smith has been a huge playmaker throughout the fall practices, intercepting five passes in one session. Sanders Commings will be starting at Free Safety and Shawn Williams is supposed to be starting at Strong Safety as of right now. Something has happened with Bacarri Rambo, other than not being overly productive, but Richt hasn't said anything as of yet.
Overall, I seem to be pushing the "We are bigger, stronger, faster" argument as my main point of positivity. However, so has every other team that Boise has played the last few seasons. The Broncos will be well-coached and will be ready to play, no doubt about that.
I worry about Moore and I worry about Doug Martin, one of the most productive backs in the country. I worry about the Bronco's defensive line and how unblockable they seem to be. I worry about our offensive line depth and whether or not Crowell is ready for the big time, though everyone says that he is.
It's going to be a challenging game, but my gut tells me that we should win this one.
Prediction: 31-24, UGA wins.
Also, here is a pretty sick hype video for the game.
Murray picture was taken from Saturday Down South and Moore picture from ESPN.