The tight end position has long been a strength for the University of Georgia, from guys like Randy McMichael to Leonard Pope and many other good ones in between. However, I can't remember a time when Georgia was deeper at the position than they will be in 2011.
The deep group has four guys that could make a big impact and three of with that would be starting at the majority of other schools. It's so deep that Bruce Figgins, a one-time top tight end recruit, has moved to fullback for his senior season.
So, let's take a look at the tight end depth chart.
1.Orson Charles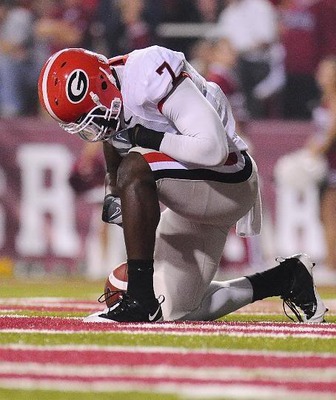 The 6'3", 240-pounder from Tampa, FL is has as much talent as any tight end Georgia has ever had. He has the bulk and strength to over the middle for touch catches but the athletic ability and speed to lineup outside as a receiver.
Charles(pictured right, bleacherreport.com) was once a five-star recruit that signed with Georgia in the same class as high school teammate Aaron Murray. As a true freshman in 2009, Charles caught 23 passes for 374 yards and three touchdowns. He followed that up with 26 catches for 422 yards and two touchdowns as a sophomore this past season.
Charles has not been utilized to his full potential so far in his career, as he should be averaging closer to five catches a game instead of the two that he has the best two seasons. If he can get more touches, the offense will be in much better shape. He is a mismatch waiting to happen and should be used as such.
2.Aron White
White(pictured left,zimbio.com)has enough talent to start at a good number of other schools in the country. White has made 16 starts and appeared in 36 during his Georgia career, catching 25 passes for 411 yards and six touchdowns.
White is a solid athlete and a good blocker. He can use his 6'4", 242 pound frame to shield off defenders whether blocking or going up for a catch. He's not as athletic as Charles, but he is a very solid player that is looking to have a great senior year.
3.Arthur Lynch
Lynch(pictured right, courtesy of georgiadogs.com) came in the same year that Charles did. Charles was a five-star recruit and the third best tight end in the country while Lynch was a four-star recruit and fifth in the country.
Lynch is more of a prototypical tight end than Charles, as he is as good at run blocking as he is as a receiver. He also lacks the elite athleticism that Charles has, but that doesn't mean that he lacks in that category.
Lynch would likely be a starter at many other schools at this point, yet has just been relegated to just one game played so far in his career and two catches for 17 yards.
4. Jay Rome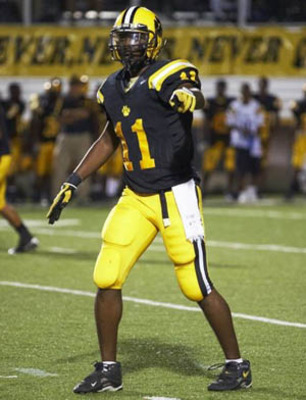 Rome(pictured left, bleacherreport.com) has NFL written all over him. Scout.com listed him at 6'6", 240 pounds as and the fourth best tight end in the country. He is a great blocker and has the athleticism to line up outside like Charles.
Rome should become an elite level tight end at the college level in two years or so, it's just a matter of how much he gets to play between now and then.
The photo at the top is property of the Associated Press.